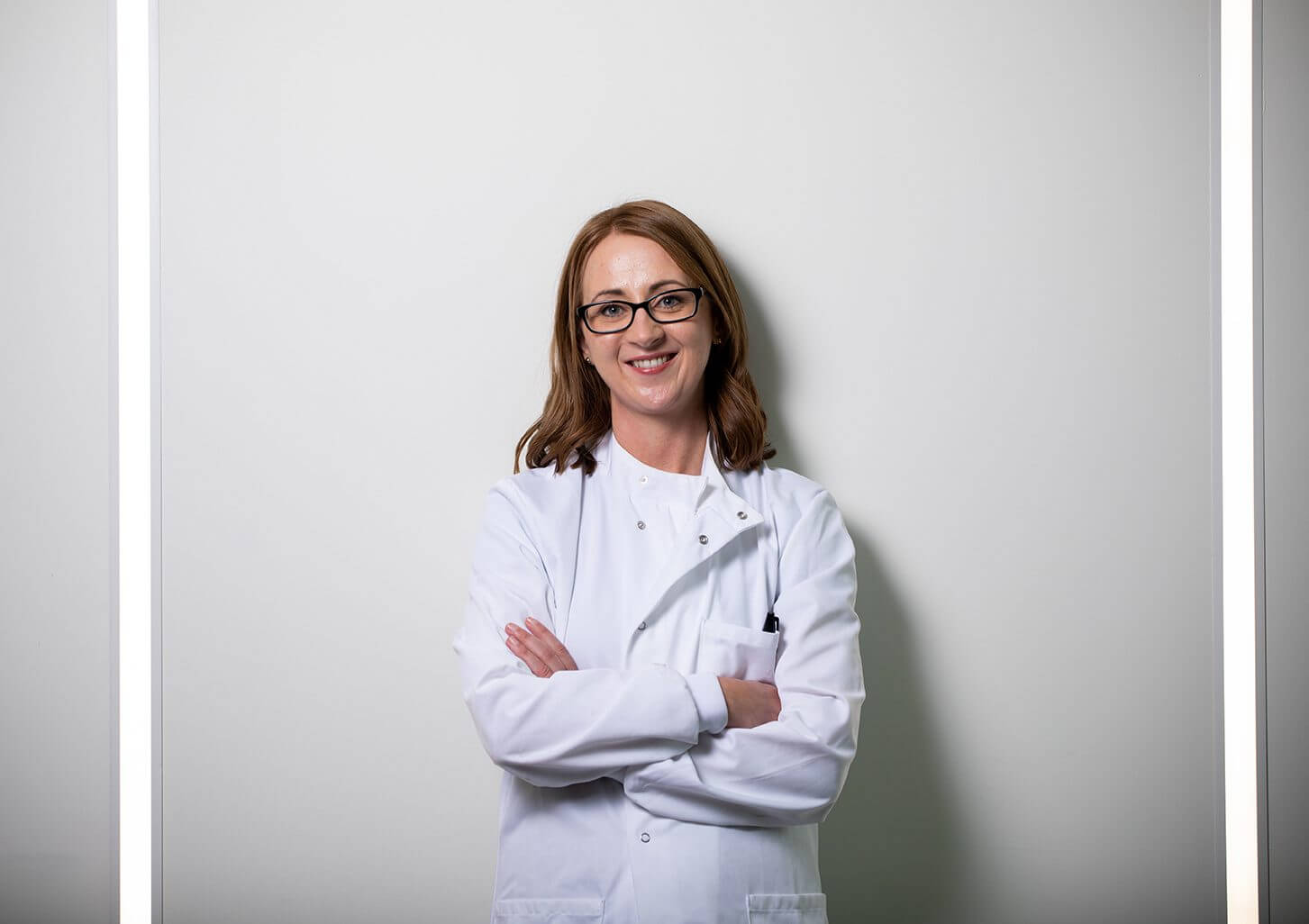 17.08.21. Former UL Post Graduate, Finola Cliffe. Picture: Alan Place
Image Source: https://globalambition.ie/hooke-bio-under-the-microscope/

The brilliant 17th-century scientist Robert Hooke proved an unlikely source of inspiration for an ambitious MedTech company in Shannon.
"Robert Hooke was the incredible mind behind Hooke's Law and early microscopy advances. Despite facing many challenges in his life, he was determined and truly ground-breaking in his fields. We see some of ourselves in him," beamed COO of Hooke Bio, Dr Finola Cliffe.
Finola has 15 years' experience in cell culture. In 2014, she joined Hooke Bio, where she now leads a team of scientists and engineers developing technology for 3D microtissues. This technology has the potential to replace the need for animal testing and provide more accurate testing models.
"It's fantastic being part of a small company with good intentions. But we often wonder where the next segment of funding is coming from," Finola says.
Forging a new path
The team was initially based at the University of Limerick and it was here they received their first investment under the Enterprise Ireland Commercialisation Fund. By August 2016, this additional support allowed Finola to successfully develop a working prototype. Her team now faced a new challenge.
"It took us months to get hold of usable data. Then it dawned on me, 'this is going somewhere but we don't have enough runway.'" she says.
While the first fund allowed the team to build a working prototype, a second would allow them to take things further again. In 2017, the team successfully secured a second Commercialisation Fund to build a more robust prototype on a larger scale. Even with new financial support, Finola was still concerned.
"We knew technology. But we were green behind the ears in how to market a product. This was a massive challenge for us to overcome. We needed to understand how to position ourselves – the funding helped with this and was the first stepping stone."
Leaping into the unknown
Through the Enterprise Ireland mentorship programme, Terry Sullivan, former MD of Clonmel Healthcare, was enlisted to help with the next step – selling the idea. He, along with Prof. Mark Davies, the founder of Hooke Bio, devised a plan around costs and milestones with the team.
The Transfer Technology Offices (TTO) became more involved. They're responsible for technology transfer and aspects of research commercialisation at universities. Working closely with Enterprise Ireland, TTO contacted experts who could share further insights into larger pharmaceutical companies like Pfizer, Novartis and AstraZeneca.
"It was a steep learning curve but we learned a lot during this time. We were beginning to understand how to best pitch ideas to research and development units. The Market Research Centre was like gold dust for us," says Finola.
As part of Enterprise Ireland, the Market Research Centre offered access to free reports that would typically cost thousands of Euros. This provided important knowledge on the competition and proved crucial in seeking investment.
Reaching the masses
The team eventually finished a business plan and began networking with potential investors in Ireland. The media was one way to be heard.
"We got our name out there, did interviews with journalists and told our story. It was something new to us, but our confidence grew," she says.
Finola noticed that investors were becoming more familiar with the company. Having won the Big Idea Showcase in 2017, even more investors came forward.
"We were getting a lot of traction and that was worth an awful lot to us. We have grown so much since the initial funding."
Finding a new home
It wasn't long until the team secured its initial investor funding and spun out of the University of Limerick. However, more funding would be needed to secure new premises and set up labs.
In early 2019, after the team secured disruptive technology and innovation funding, they moved to Shannon. Their new premises contain offices, engineering labs, and workshops, making it an entirely self-sufficient business.
"We don't need to outsource anything, which is quite unusual for a company of our size," she says. "We can make all our prototypes in-house – we can mill stainless steel, acrylic, mostly any material we want. A lot of components are needed when testing."
Believing in yourself
Enterprise Ireland's Commercialisation Fund has opened up a world of opportunities for Finola and her team, helping them on a path to success.
The company has just completed its second round of investment and released two new patents. In Jan 2019, Hooke Bio won €1.9m in the first round of funding through the Disruptive Technologies Innovation Fund, in collaboration with The Centre for Advanced Photonics and Process Analysis and NUI, Galway.
For anyone thinking of embarking on a new journey with Enterprise Ireland, Finola has some advice: "Communication is everything. If you're unsure of next steps, just go for it and pick up the phone – if you don't try, you'll never know".
Article Credit: https://globalambition.ie/hooke-bio-under-the-microscope/