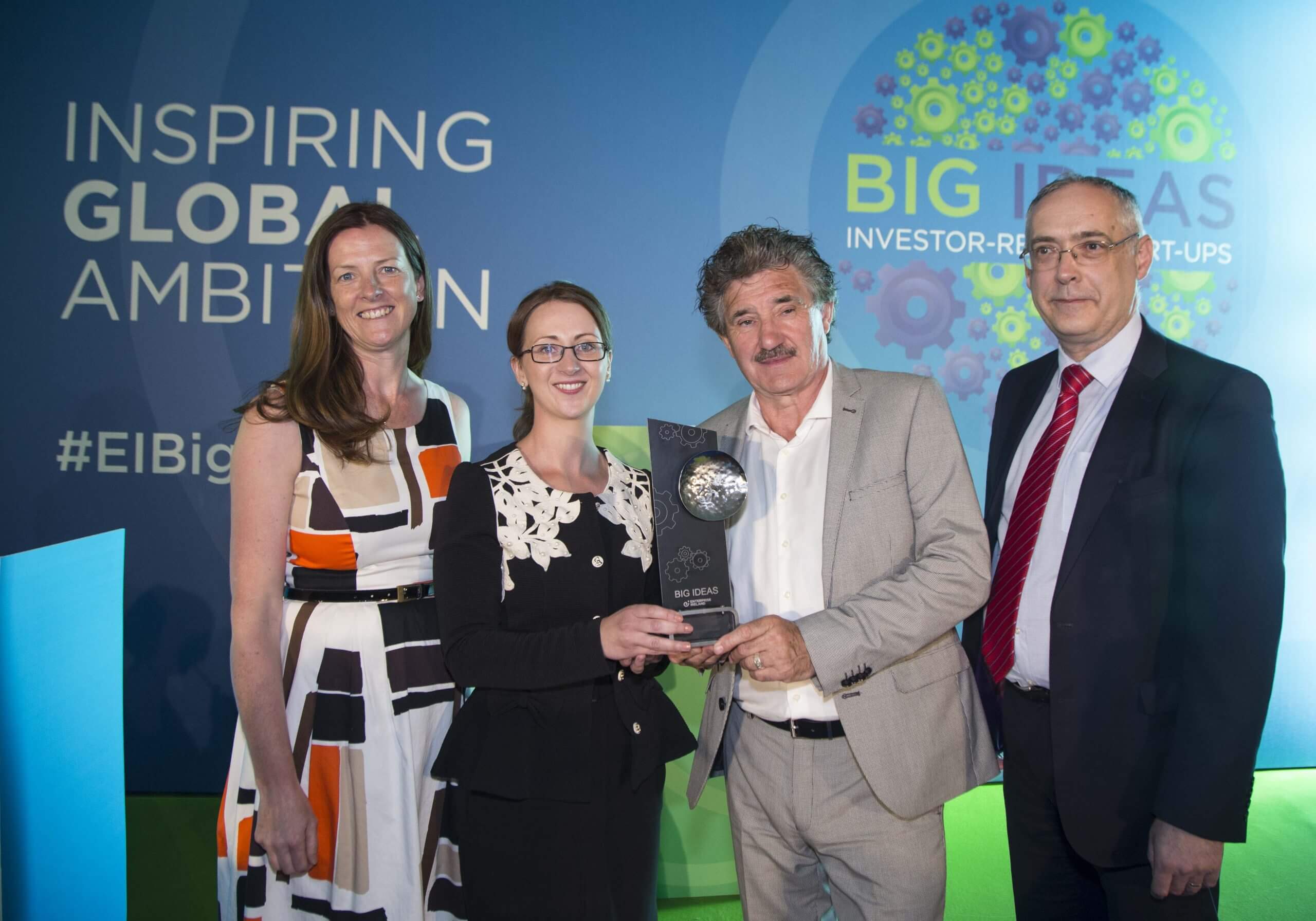 Image Source: https://www.enterprise-ireland.com/
Annual showcase event highlights successful collaborations between higher education institutes, investors and state support
This evening, Finola Cliffe of HookeBio was presented with the "One to Watch Award" at Enterprise Ireland's Big Ideas 2017. HookeBio was one of ten investor-ready start-up companies to pitch their new technology solutions to investors at Enterprise Ireland's annual showcase of start-up innovation emerging from higher education institutes at the Royal Hospital Kilmainham, Dublin.
The award was presented to HookeBio for the outstanding pitch of the day. Each company had just four minutes to promote their innovations and business propositions to an invited audience made up of the Irish research and business communities.
HookeBio's revolutionary technology aimed at the pharmaceutical industry will transform 'new drug discovery' by enabling rapid and cost-effective drug screening.
In its eighth year, the Enterprise Ireland's Big Ideas event illustrates the commercial potential of innovations from Ireland's academic institutions across a range of sectors. This year's Big Ideas came from the Medtech, Fintech, Agritech and Cleantech sectors and all have been through the initial process of getting their products or services ready before pitching their innovations to investors.
Speaking at the event, Minister of State for Training, Skills and Innovation, John Halligan TD said: "Ireland is home to one of the most vibrant and collaborative commercialisation ecosystems in the world with the global ambition of the Irish Research, Development and Innovation sector being supported by Innovation 2020, Ireland's strategy for research and development. Today's Big Ideas showcase event is about the commercialisation of the incredible academic research emerging from our higher education system. This is an event where smart people, smart ideas and smart money meet to create innovation and value, driving the future prosperity of the Irish economy on a global scale."
The keynote speaker at Big Ideas 2017 was Mark Pollock, a specialist in resilience and collaboration, who became the first blind man to race to the South Pole in 2009. The following year, a fall from a second story window left him paralysed. Now he is focused on fast tracking a cure for paralysis by creating science and technology research collaborations and translating their results to the clinic.
Trinity College's Dr. Conor McGinn discussed the future use of artificial intelligence, design and robotics in the home, as well as unveiling a new robot.
Julie Sinnamon, CEO, Enterprise Ireland said: "As part of Enterprise Ireland's four-year corporate strategy to build scale and expand reach, we have set strategic ambitions to increase client exports to €26 billion per annum by 2020. One of the methods we will use to achieve these targets is through driving innovation in Irish enterprise. Our annual Big Ideas event is a key set piece for us in driving the innovation agenda and this year's event reflects the fantastic innovative work that is being done in our academic institutions. I would like to congratulate Finola Cliffe from HookeBio on winning the "One to Watch Award" and we look forward to working with the company to take their idea from bench to boardroom."
Previous Big Ideas participants who have gone on to achieve international success also took to the stage to discuss "Scaling Start-ups" with MC Matt Cooper, highlighting the successful collaborations that exist between higher education institutes, investors and state support in Ireland.
Full details on the event are available at www.bigideas.ie
Click here to download the Big Ideas Brochure 2017 [pdf format].
Article Source: https://www.enterprise-ireland.com/en/news/pressreleases/2017-press-releases/%E2%80%9Cone-to-watch-award%E2%80%9D-winner-announced-at-enterprise-ireland%E2%80%99s-big-ideas-2017.html